Shop awnings and canopies
To run a successful shop, you need to be able to attract customers, and in order to do that, it's important to make sure your shop front looks appealing and inviting. Luckily, costly renovations are not necessary – all you need is a well-designed and personalised awning or canopy! Why is this a good investment for your business? Apart from the improved kerb appeal, you gain additional advertisement space that you can use to make your name and logo visible from afar and effective protection against the sunlight for your shop window display.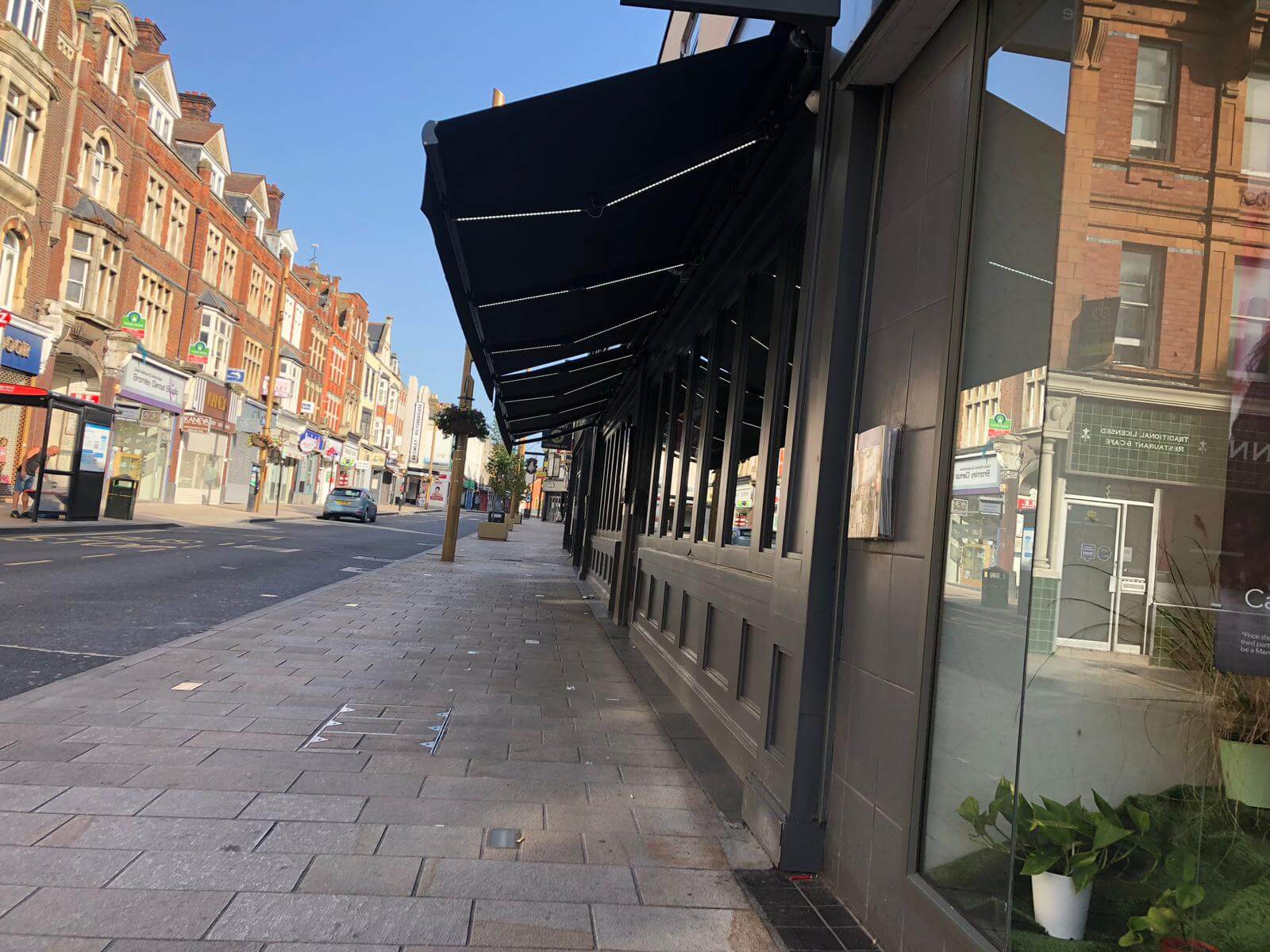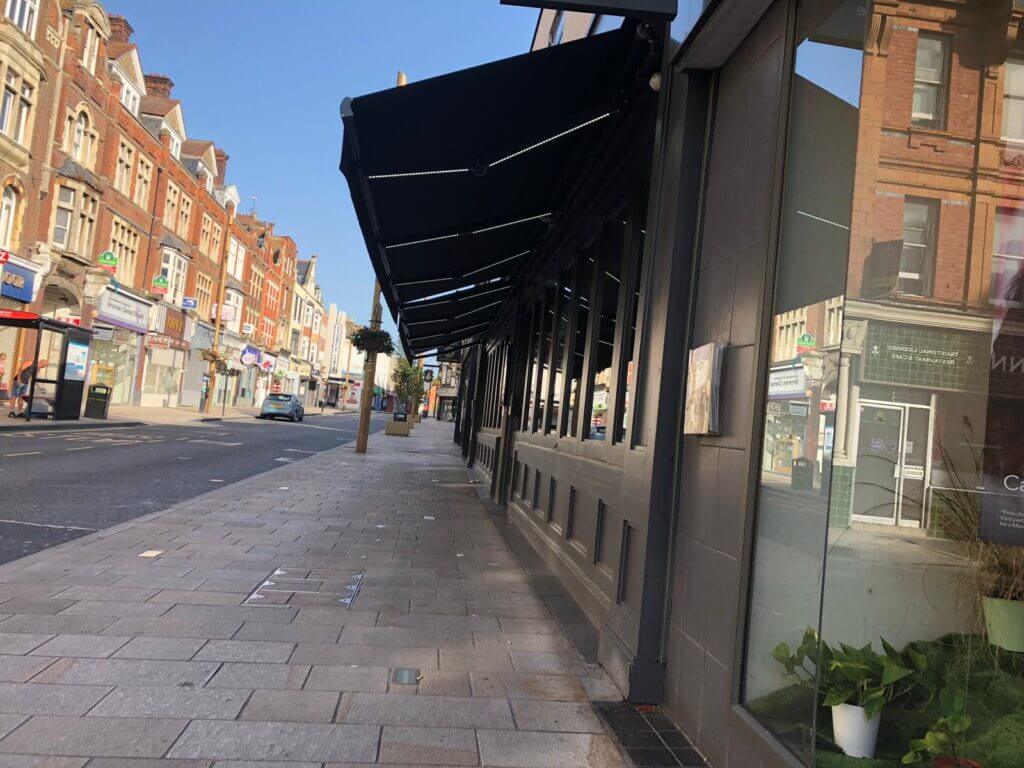 Add style and functionality to your business with a shop awning & canopy
A made-to-order shop front awning can completely transform your store by giving it a new look, regulating the temperature inside and providing shade and additional space outdoors. Available as both manual and automatic with the option to add integrated LED lighting and wind sensors, our awnings are the perfect combination of visual appeal and functionality that will make you stand out from the neighbouring properties and instantly visible to anyone passing by. Whether you're looking for shop awnings for a London high street store or a café awning to create a cosy outdoor area for your customers, you can find the perfect solutions for your business in our offer!
Unique and memorable shop front canopy
Make your shop unique and memorable with a shop front canopy made to your design. Our offer includes made-to-measure retractable and non-retractable high-quality frames covered with durable and weather-resistant fabrics perfect for the changing British weather. Choose the minimalistic look of a wedge canopy or the eye-catching shape of a Dutch canopy, and invest in a personalised solution designed specifically for your business! Place your order, give us your requirements, and we will design and manufacture the perfect shop front canopy for you!
Solutions created with your needs in mind
We offer a range of commercial shop awnings and canopies to help you bring functionality and style to your shop front with bespoke solutions. Our team takes care of everything from designing and manufacturing the parts to assembling the finished product to ensure your order is made to your exact specifications. With a sturdy made-to-measure construction, the possibility to install in atypical locations, a variety of colours, styles and patterns to choose from and the option to add handcrafted signwriting to the fabric, you can get a shop canopy or awning tailored to your needs!
Give your shop the appearance it deserves with a custom-made shop front canopy that protects your display from the sun and showcases your logo on the cover!
Why commercial awnings and canopies from Awning Depot?
Great, highly competitive price for a quality product.
Fast turnaround as our shop awnings and canopies are manufactured and assembled here in the UK, rather than imported from overseas.
Dealing directly with a manufacturer rather than through distributors, you get personal service when selecting your customised, made to measure products from initial contact to installation and after-sales service.
We do not use sub-contractors for installation – we have our own in-house experienced and knowledgeable installation team.
Wide choice of high-quality fabrics in stock.
Handcrafted signwriting for the main section and the valance to your design.
Built-in quality with sturdy frames, weather-resistant fabrics and functional solutions like manual or electric operation, long-lasting motors, high-quality dimmable LED lights, wind sensors – extras available depending on the selected model.
Depending on the ordered model you get a warranty of 1 or 2 years for our products and a 5 years warranty for the fabric from the fabric manufacturer.
In-house steel fabrication of fixings suitable for your building structure, e.g., wall brackets, bungalow brackets, gutter brackets, spreader plates or goal post brackets.
Great after-sales service should assistance be required.