With a retractable patio awning, you can completely transform your outdoor living space to enjoy spending time outside whenever you want and whatever the weather. Change its atmosphere depending on your needs to shield yourself from the sun, spend time outside even when it's raining and keep the temperature inside under control. Don't let all the benefits of having your own terrace or balcony pass you by, pick the perfect awning from the variety of options we offer and extend your home to include the outdoors as well!
At Awning Depot, we strive to supply our customers with sun-shading solutions tailored to their individual needs. Whether you're looking for a fixed or retractable cover, you can personalise your awning by selecting your preferred colours or adding a valance to create a functional and stylish addition that will take the comfort and kerb appeal of your property and garden to the next level!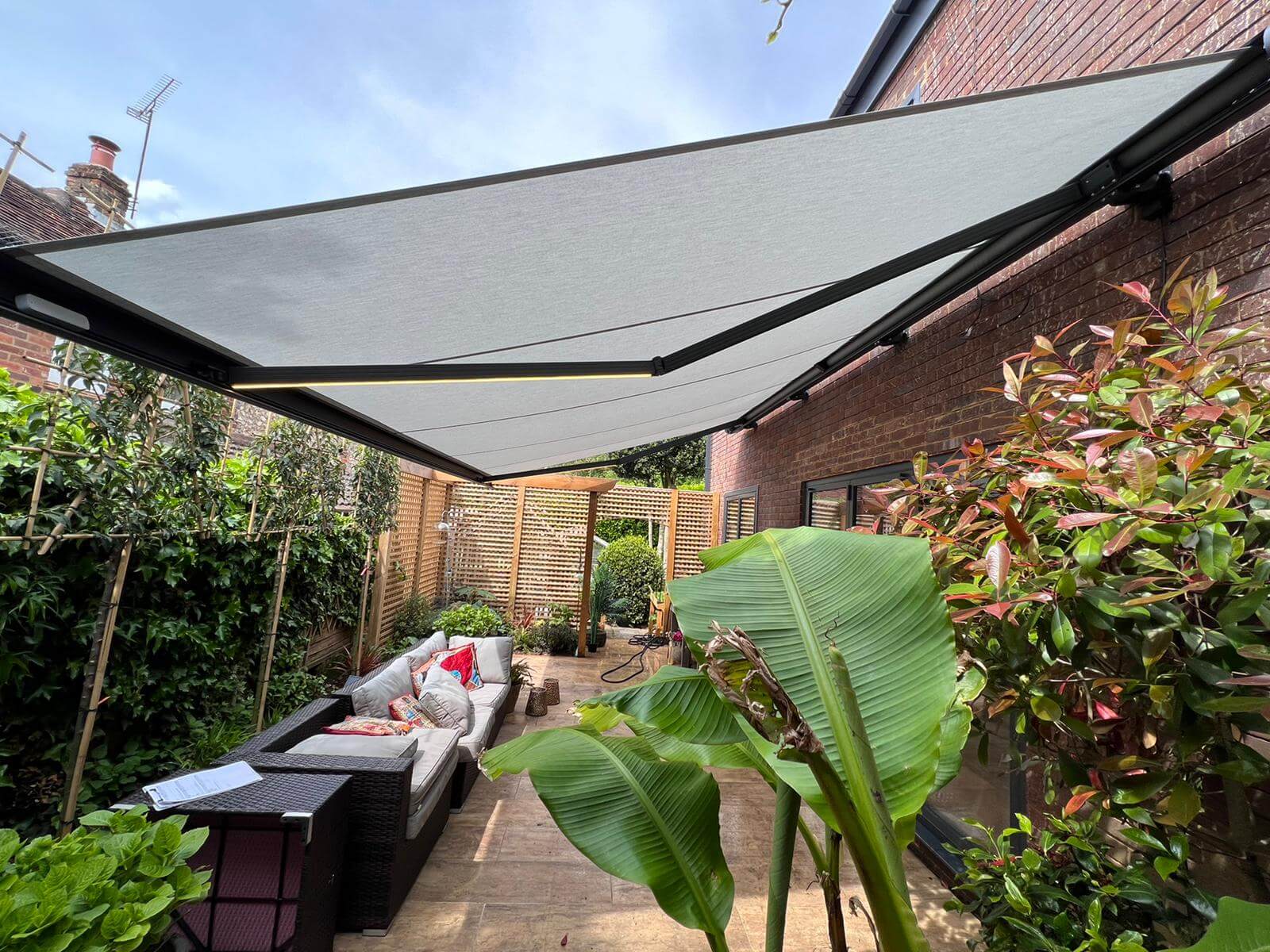 Enjoy the Full Comfort of Your Patio
Regardless of how you want to use your patio, we believe that everyone deserves the luxury of having the perfect conditions to spend time relaxing outside and enjoying the fresh air. That's exactly what you get with our patio awnings! Designed and made with the British weather and its constant changes in mind, they can provide pleasant shade on a sunny day and rain cover on a rainy one. With a sturdy, wall-mounted frame, they can cope well with light winds and electric full and half cassette awnings can also retract independently when the wind gets stronger to protect the fabric and arms thanks to wind sensors.
Choose high-quality retractable awnings perfect for any weather to enjoy your garden space exactly as you want and experience the highest level of comfort at all times throughout the entire summer season!
Bring style and functionality to your garden with our beautiful, made-to-measure and weather-resistant awnings!
Quality That Is Second to None
We use carefully selected materials and fabric to manufacture awnings that not only meet industry standards but exceed them. With years of experience and a constant drive to improve our services, we can combine traditional designs with modern functionality and innovative solutions. Our motorised retractable awnings are the perfect example of this approach! Equipped with an electric mechanism that allows the awning to be extended or retracted with just one click of a remote control button, made of durable and weather-resistant components, it offers versatility and functionality designed for long years of use.
Whether you're looking for small awnings mounted above individual windows or a large awning to shield your entire outdoor seating area from the sun and rain, we can deliver the right solution for your property. Find the perfect model for you and add your personal twist to it to make it your own!
Made to Measure and in the UK
All our awnings are manufactured from start to finish in our UK-based factory, which enables us to guarantee that every single detail is made with precision, care and according to your order. From choosing the size and type of your awning to making small changes in its design, such as adding a valance or LED lighting or changing the colour of the frame or the cover, you get a level of control over the final product that cannot be matched by off-the-shelf solutions.
If you'd like to take a closer look at our products and see the fabrics with your own eyes before making your decision, you can make an appointment and visit our showroom! This way, you'll enjoy the undivided attention of our expert and professional help with tailoring your awnings to your needs.
Functional Solutions to Add Style to Your Property
We manufacture bespoke electric and manual patio awnings that will fit right in with the design of your patio, enhancing the exterior of your house while providing pleasant shade over your outdoor seating area. Each of the models we offer creates a different effect, with Victorian awnings being perfect for more traditional neighbourhoods and full cassette ones offering a more modern look while also protecting the cover from the elements when closed.
Awnings for gardens can offer more than just rain and sun protection. Thanks to one of the UK's largest online selections of waterproof fabrics and awning designs, you can choose from a variety of patterns and colours to turn your patio or balcony awning into a unique feature to add style and character to your property. You can personalise it further by adding a valance, LED lighting or hand-printed signwriting.
Why Retractable Patio Awnings From Awning Depot?