Our subtle and compact drop arm awning can fit seamlessly into any facade to provide sun and rain cover for your windows. Or, quite the opposite, become an eye-catching statement piece that will bring customers' attention to your business. With full control over the final look of your drop arm awnings, you can choose any colour you want for both the awning fabric and side arms.
Fixed on individual windows, this solution is best suited for offices, schools, homes and shop fronts where the amount of light that enters needs to be regulated flexibly at certain times of the day. With manually or electrically operated side arms, it provides sun-shade protection even against very low sun.
Bring style and comfort to your property with stylish, made-to-measure and adjustable drop arm awnings from a UK-based manufacturer!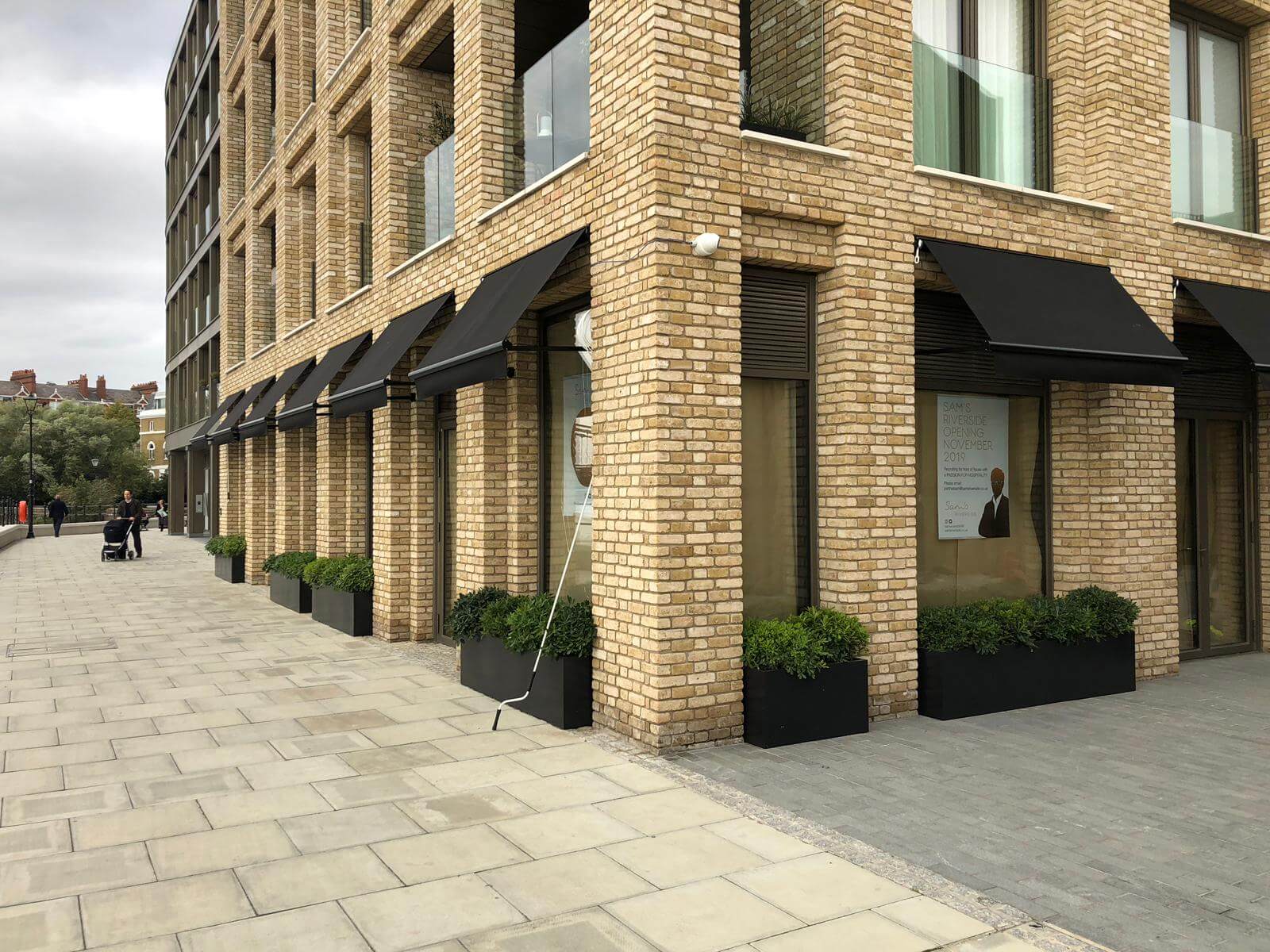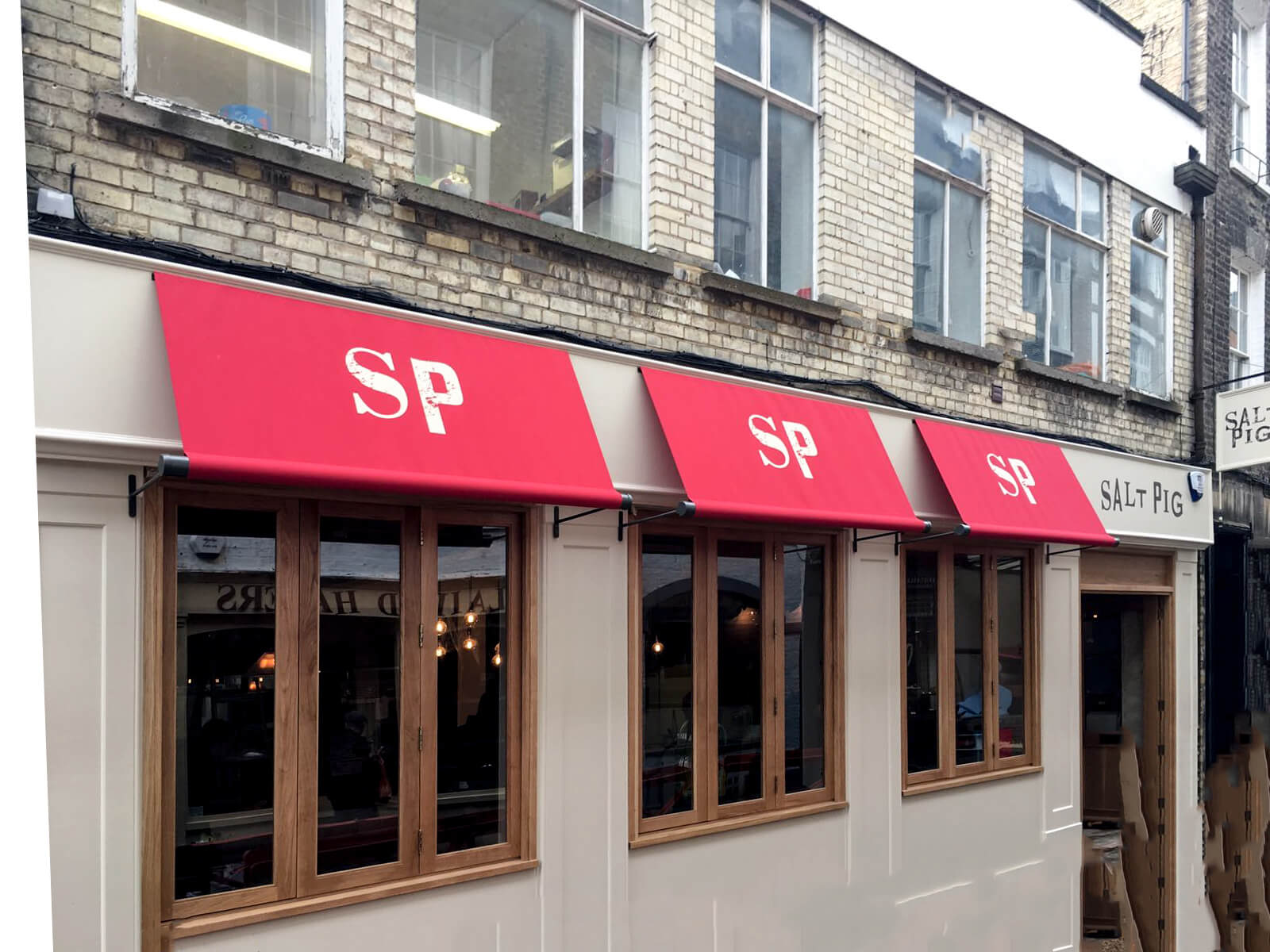 Drop arm awnings are a smart solution for tight space installations with limited headroom and multi-window installations, such as offices or shop fronts.
Design That Never Gets Old
We excel at crafting bespoke products. By selecting the best fabrics and adopting resilient mechanisms, we can ensure that our drop arm awnings will be able to provide shade and keep the awning material taut at all times. We can make your drop arm awning as trendy or as inconspicuous as you like, keep it discreet or make it scream colours from a distance. Whatever option you choose, you will be able to give your space a functional and stylish makeover with sun-shade protection thanks to our sturdy drop arm awnings.
Drop Arm Awnings Made to Suit Your Individual Needs
Standing out from the crowd with their adjustable angle and timeless design, our drop arm awnings are an excellent choice for shop fronts, hotels, restaurants, homes and any other type of space where you want to provide effective sun shade protection for your windows. Invite inside as much or as little light as needed by equipping each window with a made-to-measure sun shade. With weather-resistant arms and fabrics, our window awnings are the perfect solution for any property and any type of weather!
Why Drop Arm Awnings From Awning Depot?
Frequently Asked Questions
A drop arm awning (or blind) is an external awning that is fastened on top of windows to improve light and temperature control by providing flexible shade against sunlight whenever you need it. It's especially well-suited for multi-window installations, which makes it popular with commercial establishments, but it can be just as effective when used in residential buildings.
The cost of a drop arm blind depends on the size, the material used, the functionalities supported, and the location of the installation. It can cost as low as a couple of hundred pounds to as high as a couple of thousands of pounds. You can contact us with the specifics of your project, and we'll be able to give you a precise quote.
Drop arm awnings have many benefits:
Immediate control over the light entering through your windows.
Protection from rain on the balcony or when a window is opened.
Aesthetically pleasing design that can complement the establishment's design.
These benefits make drop arm awnings a popular choice for many home- and business owners out there.
We'll help you find the perfect awning
Our specialist awnings advisors can help you choose fabrics, talk you through optional extras and they'll take care of measuring and installation.