Struggling to maintain a comfortable indoor temperature on hot summer days? Excessive sunlight coming in through the windows or glass doors makes it difficult to enjoy the comfort of your home? Or perhaps it is the functionality of your workspace that suffers from overheating and intense glare? Whatever your reason for wanting to protect your living or business space from the sun's rays, you can achieve the desired effect by fitting a functional exterior roller blind. With their effective UV coating and style and size customised to your requirements, our external roller blinds offer great value for money!
There's no better solution to stop the heat from entering your glassed indoor space than our made-to-order outdoor roller blind!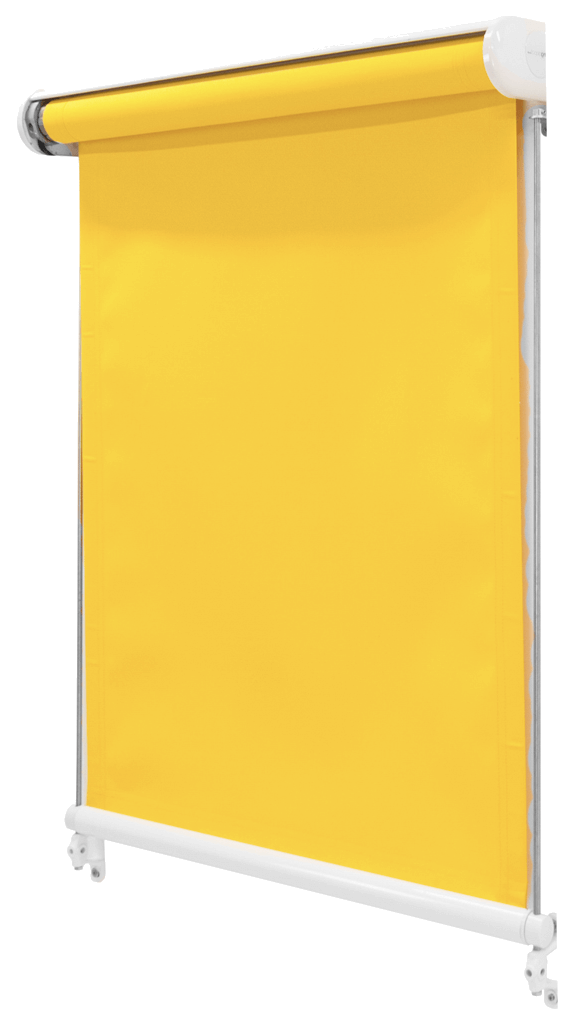 Frame Available in one
Standard Colour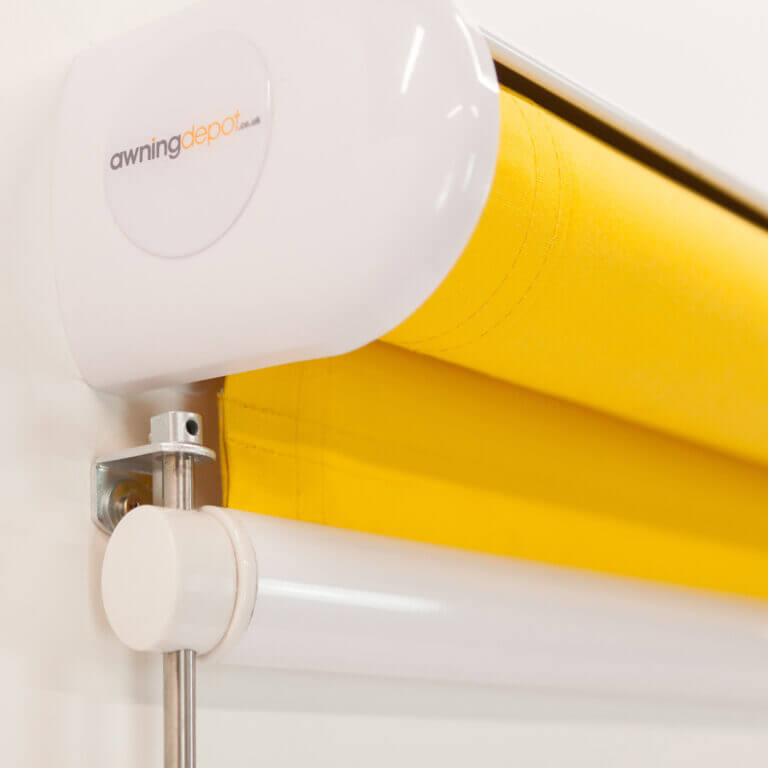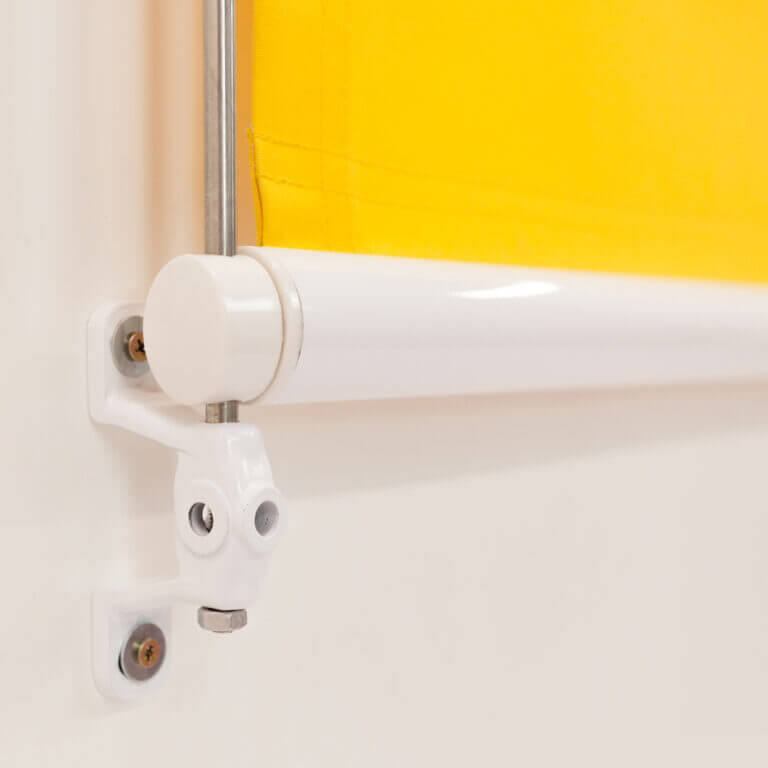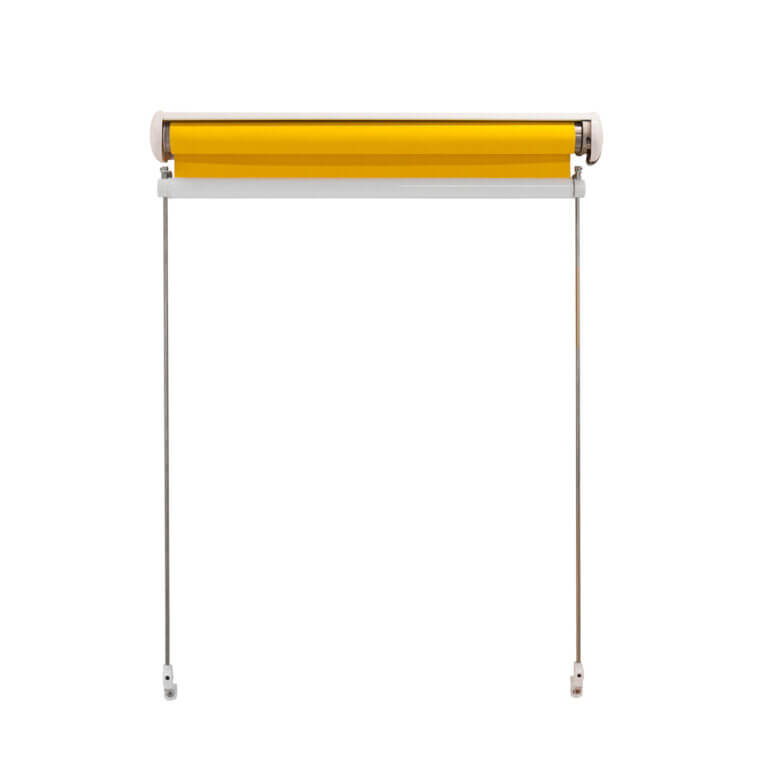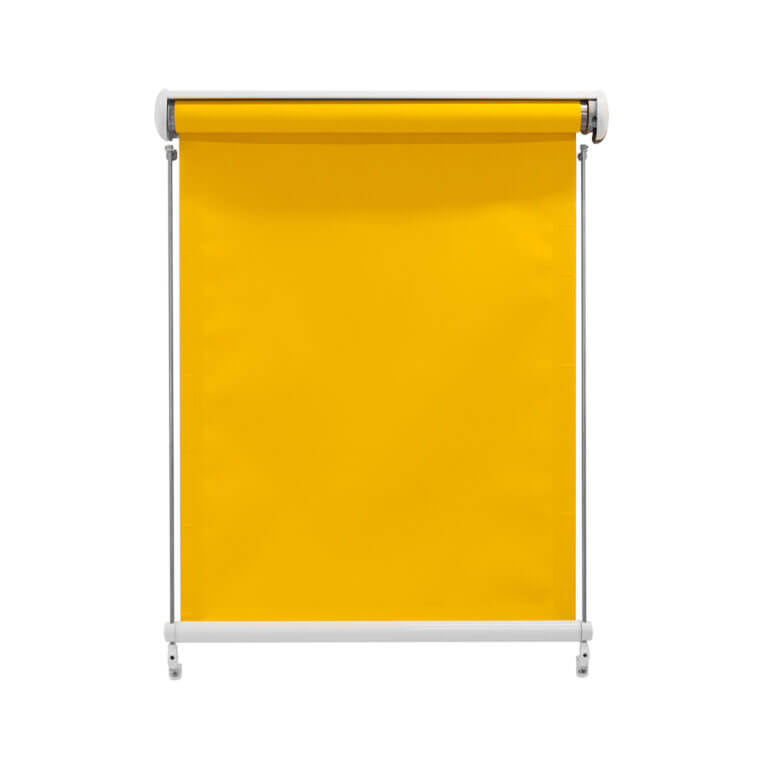 Made-To-Measure Outdoor Blinds Manufactured in the UK
All our outdoor shades and other sun-shading products are manufactured in-house by Awning Depot's team in our UK-based factory. We pay close attention to every detail during the production process, double-checking every joint and element to provide our customers with only the best solutions fully tailored to their needs. From the cover colour to the type of operation, size and added signs, we can deliver an outdoor roller blind created from start to finish according to your specifications. It's an excellent solution for both residential and commercial properties where you want to be able to control the amount of light entering through the windows depending on your current needs.
Advertise Your Brand With Bespoke Outdoor Roller Shades
Effective advertisement is crucial for any business that wants to stay afloat. With external roller blinds, instead of paying for additional advertising space, you can simply use their cover to display your brand name or contact details. It's an easy yet brilliant way to make your presence known to passers-by even after your working hours! Choose the perfect style and design for your property by personalising your roller shades to turn them into an outdoor sign or a design masterpiece showcasing your brand's logo or enhancing the kerb appeal of your building.
High Quality at the Best Price
Our exterior blinds are designed to withstand years of use – without failures, damage, or loss of quality. To ensure their durability, we use high-quality materials and components for all our products. Instead of having to look for new window sunshades every summer season, you get a durable outdoor roller blind covered by a warranty and made with the demanding nature of British weather in mind. With this simple addition, you can protect your windows from the sun, heat, and rain, add value to your property and gain control over the conditions and comfort of your indoor space. Over the years, we've worked on many projects, and we believe that our customers' satisfaction is the best proof of the quality of our external roller blinds.
Extruded aluminium top board and front rails with stainless steel side rails

Weighted or extra stability

100's of fabric colours from top European suppliers

Manually operated or powered by a strong and reliable motor with remote control

Drop: from 1m to 2.8m | Width: 1m to 5m

Logos and text can be printed on the main cover
Check out our other colors and product visualizations!
Enjoy the Privacy of Your Home at All Times With Outdoor Roller Blinds
Unlike canopies and awnings, such as drop arm awnings, with an outdoor roller blind, you gain not only effective protection against the sunlight but also a shield between your living space and the outside world that will guarantee your privacy even when you turn on the light in the evening. We offer flexible solutions suitable for keeping the sun out of your property, separating designated areas to provide a bit of privacy and creating a cosy atmosphere whenever you want. Contact us to learn more about our roller shades and other products to find the perfect fit for your needs!
A Simple Solution to Improve Your Comfort
External roller blinds are stylish window coverings that combine modern aesthetics with functional features. They give you full control over the intensity and the amount of sunlight allowed inside through the window. This means that you can shield both yourself and your furniture from the harmful effects associated with prolonged exposure to high levels of UV radiation. Thanks to an outdoor roller blind, you can decide how bright you want your rooms to be throughout the day.
Unlike standard blinds, our exterior vertical blinds are installed on the outside of the window, thus protecting the glass from heating up, allowing you to effectively manage the indoor temperature and creating comfortable conditions even on the hottest days and without air conditioning.
Why Roller Blinds From Awning Depot?
We'll Help You Find the Perfect Outdoor Blinds
Our specialist awning advisors can help you choose fabrics, talk you through optional extras, and they'll take care of measuring and installation.