FABRIC AWNING REPLACEMENT
At Awning Depot, we offer water-resistant, sun-resistant, and mould-resistant acrylic and polyester awning fabrics. They repel water, don't collect dirt, and require minimal maintenance during use. Our awning and canopy covers are made of high-quality fabrics that guarantee effective UV protection and have a relatively high level of air permeability, thanks to which you'll be able to enjoy spending time outdoors, even on a hot day.
With the option to tailor the look of your awnings by choosing their colour, adding a valance or signwriting on the canvas, our covers are the perfect choice if you're looking for a durable, long-lasting and beautiful solution to bring style and pleasant shade to your garden or shopfront.
We Have a Wide Selection of High-Quality Awning Fabrics
If you want to change the look of your awning, replacement covers from our range are available in a variety of colours and patterns, so you'll be able to find the perfect fit whether you want the fabric to blend in seamlessly into the facade of your building or, quite the opposite, become an eye-catching addition. With a wide selection of quality, waterproof and UV-resistant polyester and acrylic canvas options always in stock, we can ensure a fast turnaround and 100% satisfaction! Browse our online catalogue or visit our showroom to find the perfect option for your sunshade!
Choose the Right Style of Awning Fabric for Your Property
When it comes to selecting the perfect replacement material, it's important to consider not only its durability but also its style and colour. Colours, patterns, and textures are responsible for creating a unique atmosphere and decorating your space. At Awning Depot, we offer replacement fabrics for canopy and manual and electric awning covers in many hues and designs.
From modern one-colour canvas awnings to covers with patterns or even bespoke signwriting, with us, you can turn your vision into reality and give your property a truly one-of-a-kind sunshade! If you're not sure which option is right for you, our experts will be happy to help you pick the most beautiful fabric perfect for the style of your facade.
Advertise Your Brand With a Personalised Awning Cover
Apart from providing effective protection from the elements, an awning can provide additional advertising space for your business. Thanks to our tried and tested signwriting techniques, you can display your brand's logo, name, contact details or any other type of signage directly on the fabric. It's a great solution if you want to avoid unsightly plastic signs or maintain the historical character of the building while still bringing passers-by's attention to your shop, restaurant, or bar.
Extend the Life of Your Awnings With a Replacement Fabric
All our bespoke outdoor awnings and canopies are manufactured in-house in our factory in the UK from carefully selected components and materials, with great attention to detail and according to each customer's instructions. Thanks to this approach, we can guarantee that our products will last many years. However, every material gets worn out over time. While taking care of your awnings can prolong their life, looking for a good awning fabric replacement is a part of standard maintenance of all awnings after a few years, whether it's a drop arm or an electric awning. With a new fabric, you can restore its unique style and enjoy the shade and protection it provides for many more years.
Durable Awnings Perfect for All Types of Weather
Retractable awnings are the best solution to protect your outdoor space from the sun, rain and unfavourable weather and control indoor temperature by shielding your windows from excessive sunlight and heat. Our replacement covers for awnings and canopies are extremely durable and resistant to tearing, which means that they will serve you for years without losing colour or shape. Keeping the demanding nature of the British weather in mind, we use water- and UV-resistant fabrics capable of withstanding prolonged exposure to the elements.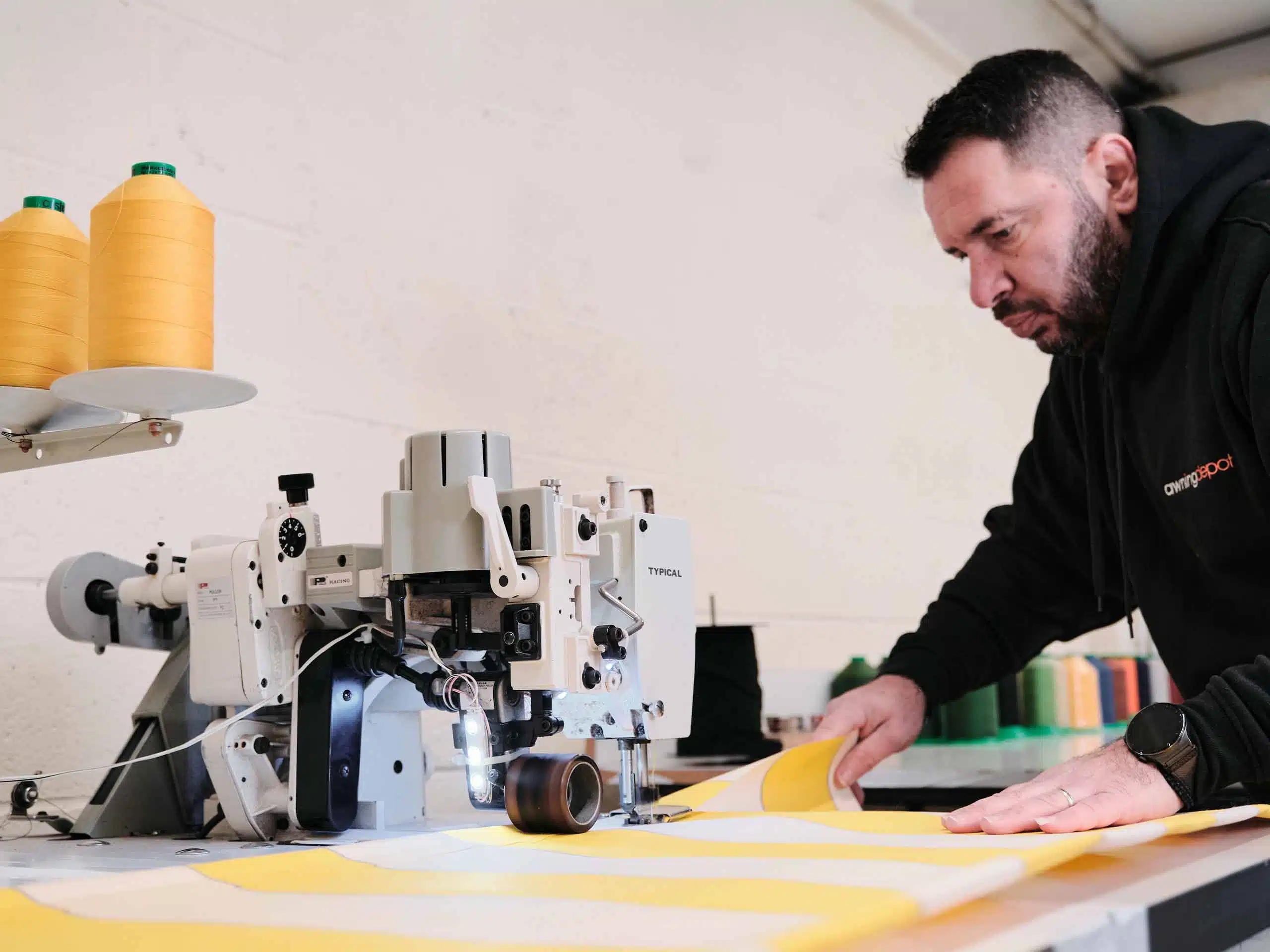 The Best Replacement Awning Fabric – UK
We work with fabric manufacturers renowned for the quality of their products. You can rest assured that once the fabric is attached to the frame, it's going to stay there for a long time without tearing, thinning, fading or losing its qualities! Give your awnings a second life without breaking the bank by ordering new personalised covers! Our experts at Awning Depot carefully monitor every aspect of the production and finished product to make sure it's second to none!
Made-To-Measure and Easy-To-Maintain Fabric Covers
What makes bespoke awnings a better choice than off-the-shelf sunshades? You can choose their width, length, and style to get the perfect solution for your property instead of settling for a product that's simply good enough. We understand that awnings are meant to improve the comfort and functionality of your garden or commercial space, not make your life difficult, and that's why our covers don't gather dirt and dust and are very easy to keep clean and in good condition.
Why Replacement Awning Fabrics From Awning Depot?
Our covers are designed and manufactured from start to finish based on your requirements. Bespoke solutions are the best way to give your awnings the exact style and look you want.
Ordering directly from the manufacturer shortens waiting times as there's no need to import components from overseas.
Warranty of 5 years for the fabric from the fabric manufacturer.
Wide choice of fabric colours, styles, and types with the option to add handcrafted signwriting.
Excellent personal service from initial contact to after-sales support.